The various shooting disciplines are a popular sport where age, gender or health do not prevent participation. Competitions range from informal local events to provincial, territorial or national championships and upwards to the international and Olympic level. The Whitehorse Rifle & Pistol Club is a long standing, non-profit organization which has been vital to the promotion of the shooting sports in the Yukon. In addition to providing a suitable venue for our Yukon shooters to practice their discipline, the WRPC has also hosted national and international championship events. The WRPC also supports local enforcement agencies with scheduled access to the shooting range.
The federally approved shooting range of the Whitehorse Rifle & Pistol Club is located at mile 3.2 Grey Mountain Road in Whitehorse. The shooting areas include seven range venues for specific firearms usage:
Trap Range

shotguns only
automatic throwers from two trap houses

Rifle Ranges

Centre Fire Rifle Silhouette – 200 – 500 meters
Rim Fire Rifle Silhouette – 40 to 100 meters
Bench Rest area – 100 yards to 500 meters – metal clangers for high power calibers.
.50 cal BMG is NOT permitted.

Handgun Ranges

PPC (Practical Pistol Course) – 104 meters – 12 target stands at 50 meters
Falling Plates – 44 meters – reactive metal targets – no rifles permitted
Rim Fire and Centre Fire Handgun Silhouette – 25 meters to 200 meters

Indoor Range

.22 calibre rifles and handguns (no magnum loads, paper targets only – no reactive targets permitted)
air guns (lead pellet only)
centre fire handguns (lead bullets/target loads) – members must obtain handgun proficiency status
Range Layout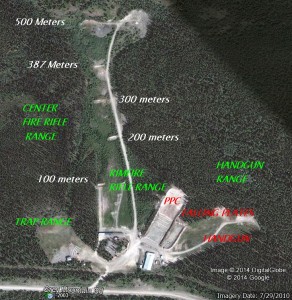 The WRPC is involved in a variety of activities that promote firearm safety, ethical hunting practices, respect for the environment, healthy competition and physical activity.
Canadian Firearms Safety Courses provided by certified instructors
Youth Shooting Program
To find out more about the Whitehorse Rifle & Pistol Club > Contact Us
Print a Membership Registration form